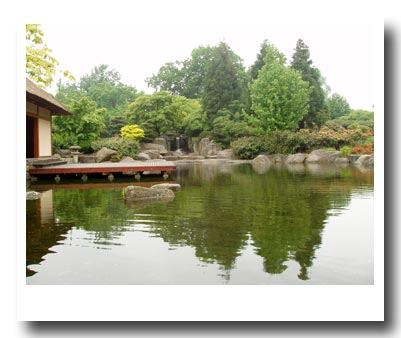 Am vergangenen Donnerstag war ich mit These und Alex bei einer Adobe CS2 Vorstellung.
Mächtige Werkzeugkiste. Im Anschluss haben These und ich uns dann noch bei Planten un Bloomen verlaufen und sind im idyllischen japanischen Garten gelandet.
Eine Prima Oase, mitten in der Grossstadt. Etwas Entspannung könnte ich jetzt auch gebrauchen! Irgendwie wäre mir nach rudern auf einem grossen See.
Last thursday I've been to an Adobe CS2 presentation with These and Alex. Afterwards These and me got lost in the Planten un Bloomen and suddenly we found ourselves at the japanese garden. A very relaxing spot in the middle of big Hamburg. I would need some silence now! I'm dreaming of rowing with a boat an a big sea.
An diesem Tage...